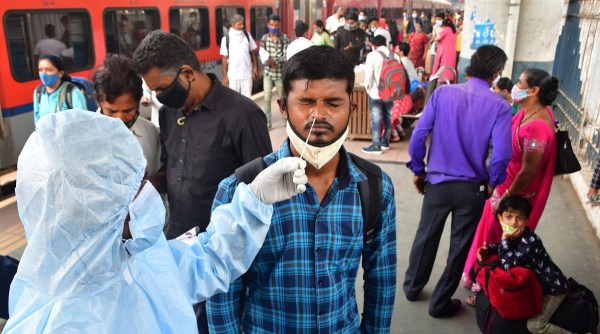 A BMC health worker collects swab sample of an outstation passenger for COVID-19 test, at Dadar railway station. (PTI)
Explained: What are Centre's guidelines to states for Omicron containment
Union Health Secretary Rajesh Bhushan Tuesday issued specific guidelines to the states in the backdrop of "initial signs of surge" in cases of Covid-19 as well as increased detection of the Variant of Concern (VoC), Omicron, in different parts of the country. These recommendations relate to strategies for containment and restrictions in districts reporting high positivity rates, including the imposition of night curfew, strict regulation of large gatherings, curtailing numbers in marriages.
What are these guidelines?
First, the health ministry has said that if test positivity rate of 10% more is reported in the last one week, or, if the district reports bed occupancy of 40% or more on oxygen supported or ICU beds — district-level containment measures and restrictions may be put in place.
Can restrictions be imposed by districts, even if the districts report less than 10% positivity ?
Yes. The health ministry has said that based on the local situation and population characteristics such as density, and keeping in mind the higher transmissibility of Omicron — states can take containment measures and restrictions even before these thresholds are reached.