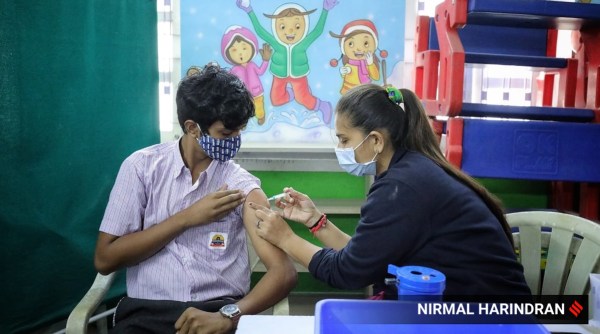 Children getting vaccinated against coronavirus in Ahmedabad. (Express Photo by Nirmal Harindran)
Manufacturers question ICMR's 5-day window to license its Omicron kit
A number of domestic In Vitro Diagnostic (IVD) test kit manufacturers have questioned the short 5-day deadline set by the Indian Council of Medical Research (ICMR) for submitting an Expression of Interest (EoI) to commercialise a diagnostic kit it developed for the detection of the Omicron variant of the coronavirus.
Their contention: Since the anticipated Omicron surge will trigger an unprecedented but relatively short-lived demand for targeted test kits, any head start over those who missed the 5-day window will hugely benefit a few who did not.
On December 17, the ICMR invited the EoI by December 22 for "transfer of technology for development and commercialisation of SARS-CoV-2 Omicron (B.1.1.529) Real time RT-PCR assay through a novel diagnostic kit" developed at the ICMR-Regional Medical Research Centre (RMRC), Dibrugarh.
Rising Covid-19 numbers may blunt sharp uptick in services
A five-fold increase in Covid-19 daily count over the last seven days to 33,750 on Monday, and fresh restrictions on movement of people by states, suggest that the services sector will be under pressure and likely flatten if the case count continues to rise in the coming weeks. But this may be short-lived.
According to Google Mobility Index, visits to retail outlets such as restaurants, shopping centres, cinema halls, etc on November 3 — a day before Diwali — were 13 per cent higher compared with a pre-Covid baseline: the highest in all of 2021. Since then, the metric has dropped and stayed close to '0' for the most of December. With new clampdowns, a slide below zero is likely.